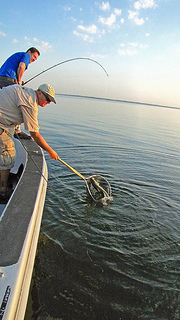 Lake Texoma Fishing Report – Can you imagine one thousand acres of Texoma surfacing stripers?
Today we had 2 boats with 8 fishermen experience the ultimate top water action. We went fishing; let me correct that…  we went catching.
The Stripers began surfacing before sunrise. By eight a.m. we had landed, caught and released 91 stripers up to eight and a half pounds. I know fishermen only lie when their lips are moving…but you had to be there to believe it!
Just imagine lots of multiple hookups, whooping and hollering. Stripers are voracious feeders. We had follow ups with fish wanting to take the Pencil Popper plugs from the hooked fish.
Heck, we even caught two stripers on the same plug several times. Now that's a sight to see when you have two mean, line stripping and rod bending fish thrashing and pulling different directions.
Where ever you are, whatever you do, you have to put Texoma top-water Striper fishing on your list of things to do. We hold a deep passion for this great lake and it is our pleasure to see fishermen catch the legendary striped bass at Lake Texoma.
If you are ready for guaranteed excitement contact Lake Texoma Striper Guides Striper Express today.