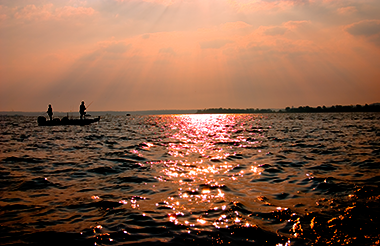 To say the fishing is great on Lake Texoma would be an understatement. Texoma offers a fishing experience to appeal to just about any sporting spirit. Given the size of the lake and the variety of species and habitats found on Texoma, it's a safe bet anglers will never be bored.
Black bass, sand bass, small mouth bass, crappie, bluegill, catfish and others are abundant, but the king of Texoma fish has to be the "striper." Striped bass (affectionately called stripers) are native to ocean waters. Since stripers were introduced here in the late 1960s Texoma has become known for some of the best striper fishing in the Southwest. In fact, very few lakes in the United States can match Texoma. Because stripers tend to migrate from one end of the lake to the other, a little advice from the locals can be very helpful to vacationing anglers.
The white bass, often called sand bass, is another popular fish. "Sandies" receive a lot of attention in the spring when massive schools travel to spawn in the creeks and streams that feed into the lake. Another popular time for sand bass is the summer when they school on the surface.
Lake Texoma is invariably mentioned in conversations about catfish—especially conversations about blue catfish. Texoma has produced a number of record fish—one Texoma "cat" weighed in at 118.5 pounds—as well as plenty of fish big enough to inspire more than a few fish tales.
A Lake Texoma fishing license will permit access to any part of the lake. To fish the Red River below Denison Dam, however, requires a state license from the appropriate state. Most marinas as well as bait and tackle shops sell licenses and can help explain the regulations.
The easiest way to ensure a successful catch is to hire a professional fishing guide. The Lake Texoma Association can put a visitor in touch with an experienced guide (580/564-2334). Not only can a guide take a seasoned angler straight to the best spots for the particular time of year, but they're also great for the novice. They can provide all the best equipment and help with a little instruction on the proper techniques, too.
Click here for fishing guides.
The following map provides GPS coordinates along the entire length of the lake that identify the border between Texas and Oklahoma and possible different fishing regulations.

Texas Fishing Regulations for Community Fishing Lakes
The regulations enforced for fishing in the Texas area is to help assure that certain types of fish, certain sizes or specific areas will not be over fished. The regulations are also intended to protect the rights of anglers as well as landowners. Fishing regulations are found in the Texas Parks and Wildlife Outdoor. To begin, fishing in the Texas area is restricted to fishing by pole and line only. Anglers may use no more than two poles while fishing. After turning age 17, you must have a license to fish legally in public waters and licenses are renewed each year. For specific fish such as largemouth and smallmouth bass, there is a minimum length limit of 14 inches. There is no minimum length for Guadalupe or Spotted Bass; however, the daily bag limit is 5 fish for all four species. For White, Striped and Yellow Bass, there is a minimum length of 18 inches and a daily bag limit of 5 in any combination. For white bass, there is a minimum length of 10 inches and a daily bag of 25. For Yellow Bass, Carp or Sunfish, there is no bag or size limits. For Blue Catfish, there is no minimum length but there is a combined daily bag of 5. For Crappie's, the minimum length limit is 10 inches with a daily bag limit of 25. For rainbow and brown trout, there is no minimum length; however the daily bag limit is 5. Freshwater and saltwater fish must be released if it has gone over the slot limit.
Oklahoma Fishing Regulations:
There are general regulations for fishing in Oklahoma and they include the following. It is unlawful to fish in Oklahoma without carrying a license or written evidence explaining that you are exempt. You cannot fish on the land of another without consent from the owner, lessee or occupant of the land. Anglers must obtain permission to enter any posted or occupied land devoted to farming, ranching or forestry. No one can sell, barter or trade fish, frogs or turtles, except with a commercial license. No one can enter, swim, wade or operate a boat or a floating device in any safety zone. Those that are fishing cannot possess, consume or use any alcoholic beverages on any land or waterway that is subject to the control of the Wildlife Department, except for those areas as designated as parking or camping areas. No one can stock fish in any public waters including streams and rivers without written consent from the Wildlife Department director.
Lake Texoma Special Fishing License (Type 208): $12
With this license, which is valid until December 31 following the date of issuance, a person may fish in both the Texas and Oklahoma waters of Lake Texoma without any additional Texas or Oklahoma fishing licenses or stamps. A Texas resident 65 years of age or older does not need this license to fish in the Oklahoma portion of Lake Texoma. A Lake Texoma license is valid ONLY on Lake Texoma (see reservoir boundaries.) Read more at: http://www.tpwd.state.tx.us/regulations/fish_hunt/licenses/border_waters/index.phtml